What Size and Type of Casing Do I Need?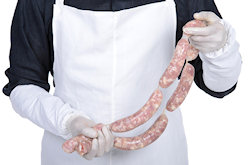 North American Hog Casings are ideal for making Pork sausage, Large Frankfurters, Italian Sausage, Bratwurst, Smoked Sausage, Kielbasa, Pepperoni, and Rope Sausage to name a few. Larger diameters of Hog Casings are used for specialty items.

Sheep Casings are ideal for Breakfast links, Pork links, Cocktail Franks, Wieners, Frankfurters, and Cabanosa. Larger diameters of Sheep Casing can also be used to make Chipolata, Brockwurst, and Landjaegar.