100% AMERICAN MADE & PROCESSED!
ALL NATURAL HOG & SHEEP CASING.
Syracuse, NY (315) 475-0309

Casing Instructions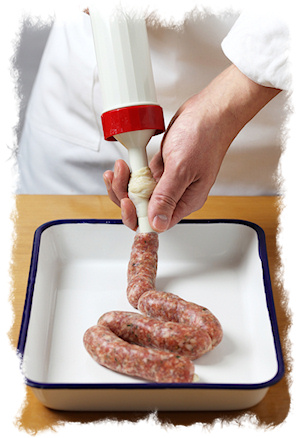 Remove desired amount of casing and rinse in fresh water. Then soak in 85 – 90°F water for at least 10 minutes prior to use. This will ensure all the salt is removed from your casing.



The plastic tube has an open end indicated by the hole-punch out. Open this end and slide the tube with the casing on to your stuffing horn. Once on the horn, hold the casing firmly in place and pull the plastic tube to remove it. The casing is now ready to stuff. If your stuffing horn is not suitable for the tube fit or is to short simply remove the plastic tube from the casing and load your stuffing horn manually.



Any leftover casing you do not use can be stored back in its container for up to 6 months. To store after you have soaked the casing, place the casing in a strainer and generously salt the casing (table salt will do). Allow the casing to drain off access water for at least 1 hour then place back in the container and refrigerate until needed. DO NOT FREEZE CASINGS.



If you have any problems please do not hesitate to contact us Monday – Friday 9am – 4pm at 315-475-0309